Oil History
The spark that ignited North Dakota's oil boom of 1951 was discovery of oil by Hess Petroleum Corporation on the Clarence Iverson farm, 8 miles south of Tioga. The oil field which grew up around this original site is a small part of the oil bearing region called the Williston Basin, which extends from South Dakota to western Canada, and from central North Dakota to central Montana. Shaped like a giant saucer, this basin rests on pre-cambrian granite, and was filled with porous sandstone which was later overlaid with impervious materials, preventing the escape of possible oil accumulations. The full extent of oil bearing formations in the basin is still unknown.
The Hess Company presently maintains two branches of operations, a natural gas processing plant, and natural gas and crude oil production. With a combined total of over 100 company and contract employees, Hess is a major employer in the area. The company operates and maintains nearly 150 producing wells ranging in depth of production from 8,100' to 14,000'. The Tioga Gas Plant processes a large amount of natural gas and supplies much of North Dakota's propane. With horizontal well drilling technology and the installation of a CO2 line through Tioga, a new and exciting era is beginning in one of the US's major oilfields.
As oil prices ebb and flow, the number of oil related firms in the area moves with them. Below is a listing of businesses in the Tioga area presently supplying services of one kind or another to the oilfield.
Amerada Hess Gas Plant - Rory Nelson 664-3361 Natural Gas Processing
Amerada Hess Production - Cary Longie 664-6220
Tesoro High Plains Pipeline - Herman Backhaus or Monica Miller 664-2823
Badlands Power Fuels - Wayne Purdue 664-2000
Basin Oil - Lynn Olson or Karen Olson 664-3558
Black Hills Trucking - Kenny Jensen 774-0011
Bob Skarphol - Independent Contract Pumper 664-3510
Condor Petroleum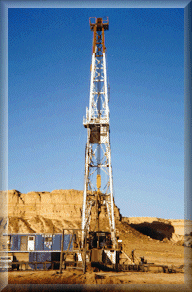 - Ron Kohler 664-2870
Farmers Union Oil Co. - Dianne Clark 664-3344
JAFCO, Inc. - Don & Betty Freborg 664-3532 Abrasive Blasting, Coatings
Lawrence Transportation - Charles Ramberg 755-3419 Oilfield Transportation
Lee's Electric - Lee Wayne Johnson 664-3435
Little R. Trucking - Raymond Gleave Jr.
664-3548 General Oilfield Work and Trucking
Lund Excavating - Ronnie Lund 664-2424
Journey Enterprises, Inc. - Wayne Grindy 664-3520 General Oilfield Services & Roustabout
Midwestern Oilfield Service Inc. - Mac McGregor 664-2238 Hot Oil
National Oilwell -Conley Eide 664-2448
Nordak Supply - Dennis Weyrauch 664-4700 General Oilfield Supply
Omar Repair - Hamad Omar 664-2414 Contract Pumper
Pioneer Service - Larry Torgerson 664-2859 Oilfield Contract pumper
Pool Well Service - Wes Johnson 574-4284 Well Service, Horizontal Drilling
Roustabout Service - Dale Lalim 664-2190 Oilfield Insulation and Construction
Sheldon Welding - Roger Baker 664-2516 Steel Service Center, Steel Sales, Welding
Sundhagen Construction - Harold Sundhagen 664-3886 Sand, Gravel, Earthmoving, Oilfield Location
Tioga MachineShop - Wesley Johnson 664-3337 Machine Shop, Walking Beam Straightening, Bearings, Welding
Tervita - 664-2511 Hot Oil Service
Tioga Motor Service - Del Martinson 664-2512 Vehicles, Parts Service
Tioga Ready Mix Co. - Harold and Karen Sundhagen 664-3886 Ready Mix, Concrete, Sand, Gravel & Rock
Tioga Parts Supply - Myles Rosencrans 664-3394 Automotive, Industrial & Farm Parts and Accesories